Now offering sublimation transfers!
Let us do the printing for you! Cupartistry Blanks now offers sublimation prints
that will help grow your business without the added expense of a printer and ink!
Offer your customers less expensive tumbler options!
The sublimation process is easy peezy lemon squeezy!



Ligntning Fast Shipping
Most orders ship same day with the exception of holidays and weekends.
Please allow extra shipping time for custom printed sublimation transfers.

Best Quality
Every product Cupartistry Blanks offers is put through a series of test before it arrives to you! We're picky which allows us to stand behind our products without hesitation!

Competive Pricing
We may not be the cheapest tumbler supplier on the market ....we're not trying to be! Our customer service and quality products is what sets us apart!

Payments Options
We offer Sezzle, Afterpay, Paypal, Credit Cards and good ol fashion cash or that jar of coins you've been saving for a rainy day! However, we do not accept arms and legs!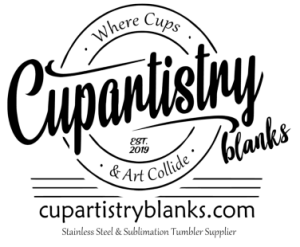 Sign Up for our restock updates and special sales!